Apr 29 - Do you Twitter? Here's a short list of Lawrence runners that are on Twitter:
Thanks to Tim Hibbard for the links to some interesting reads. Check Tim's report on his experience in the Kansas Half Marathon.

Results from the Apr 19th Kansas Half Marathon/10K and 5K have been revised and updated.
Apr 27 - Report on the Saturday Free State Trail Ultras, from Bad Ben's Trail Running Site: "40-Mile and 100K events will be uploaded later. We will have a new category: DDT: Dropped Due to Tornado. Thanks for your understanding with this issue. There were impassible streams on the trail due to rains/flooding, and there were also high winds, lightning, and certain park officials that told us to shutdown the race and hunker down in shelters. We have the best volunteers in the world, and they worked extremely hard to make sure that everybody who could get off of the trails, safely did so. Thanks again for a great Free State Trail Run. Happy trails, Ben & Sophia."
26.2 mile marathon results
Here are a couple of photos from Jenny Wise-Cook: (left) Eric Chirchir outsprints Ernest Kebenel to win the men's race at the Trolley Run; (right) Cindy Cameron won the women's masters category.
Apr 26 - At this morning's Run for Erica 5K, Scott McVey was 1st overall male and his wife Molly McVey was first overall woman.
Scene from the Dog Jog this afternoon (click to enlarge):

Local area award winners at the Trolley Run 4 Mile include: Paul Hefferon (Lawrence, 3rd M20-24, 18;26), Matthew Laye (Topeka, 3rd M25-29, 19:48), Susie Fagan (Lawrence, 2nd F35-39, 26:09), Dee Boeck (Lawrence, 5th F55-59, 31:27), Richard McDaniel (Topeka, 4th M55-59, 28:03), Teri Hatfield (Lawrence, 2nd F60-64, 32:30), and Richard Wichman (Lawrence, 4th M60-64, 25:51). full results
Apr 23 - Want to Go Faster? You Need a Trainer: If anyone ever wondered whether it was talent or sustained systematic training that makes athletes so good, they need only look at Joshua Gordon, a professional mediator in Boston. . . Mr. Gordon found that training, if done right, is the ultimate performance enhancer, with effects that can dwarf those of illegal drugs, like the blood-boosting drug EPO, as well as legal stimulants like caffeine. Still, it seems, too few amateur athletes take it seriously and fewer still do it right. more (from the NY Times)
Welcome a new club in town - the Lawrence Trail Hawks. As Gary Henry explains:
"The Lawrence Trail Hawks, founded by Lawrence area trail and ultra runners, will run on, promote and care for the Lawrence trails, including the Kansas River Trails (sometimes known as the Sand Rat trails), and the Clinton Lake North Shore Trails. We'll work with the Department of Parks and Wildlife and the Kansas Trails Council to help keep the trails groomed and free of trash. We'll stage events, and help with other groups' events that meet our goals of promoting and caring for the trails."
More at Gary's blog.
Apr 21 -For those of us who didn't get to see the race yesterday, here's the YouTube video of the top finishers on the women's and men's race at Boston. The tears in Kara Goucher's eyes showed how much she wanted the win.
The winner in the women's race, Salina Kosgei made the switch to distance running some years ago. In a recent interview, she restated a basic fact of marathon training - gradual development. "I was actually around 27 when I switched to marathon. And this is normally a good time/age since your body has had the chance to mature and to take advantage of all the years of endless miles in training. The transition for a 10,000-meter runner is normally not too difficult as it means just adding on more long runs and more mileage, but it has to be done with intelligence since if you increase your training too suddenly you can be prone to injury."
Apr 20 - Results of Lawrence area runners from the Boston Marathon.
Passing the Chi Omega Fountain at the Kansas Half Marathon; Lawrence's DJ Hilding & Omaha's Christy Nielsen

(gmw)
Apr 19 - About 1500 participants ran the Lynn Electric Kansas Marathon events today in support of the Health Care Access Clinic. Despite the overcast skies and windy conditions at the top of the hill at the Lied Center, it seemed nearly everyone was enjoying the day's event. Winners in the half marathon were Lawrence's DJ Hilding and Omaha's Christy Nielsen. Josh Nygren and Rychel Johnson, both of Lawrence, won the 10K race while Bob Mcanany (Hays) and Kelsey Verhaeghe (Stilwell) were tops in the 5K. complete results
Lauren Bonds shines on final day of the Kansas Relays; Kansas junior punched her ticket to next month's regional championships. more
Full results from the KU Relays.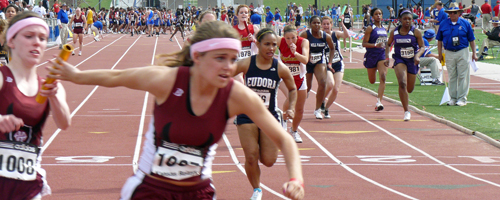 The girls 4x100 prelims on Friday at the KU Relays

(gmw)
Apr 15 - Runner's World had an article (Apr 09 issue) on Coach Bob Timmons, and in the opinion of many of his former athletes and friends, it was a harsh story. If you missed the story by Ben Paynter, here's the link to the story and the comments.
Apr 12 - The Kansas Relays is set for Apr 15-18 and while it is the premier track meet in the state, it will be interesting to see what the sports' popularity will be when the new track is built south of Allen Fieldhouse. Will the annual event still be able to draw participants and get more fans into the stands? Is track & field less popular than it was 25 years ago? One person we may want to consult is Jamaica's Usain Bolt. Bolt, track's biggest star, looks to revitalize the sport. See the article from the NY Times.
One race to look forward to: Alan Webb, the American record holder in the mile (3:46.91), will compete in this year's Kansas Relays looking to run the first sub-four minute mile at the Relays since Paul McMullen accomplished the feat in 1997 (3:59.88).
Sun, Apr 19, following the Relays is the Lynn Electric Kansas "Marathon". As everyone knows by now, there is no marathon this year. Participants can choose to run a half marathon, 5K or 10 K race. It all starts on Massachusetts Street. Then, on Monday, Patriots Day back in the Commonwealth of Massachusetts, we set our eyes on the Boston Marathon, wishing the best for all our local runners.
| | | | | | | |
| --- | --- | --- | --- | --- | --- | --- |
| 5184 | Bates, Kelli K. | 32 | F | Lawrence | KS | |
| 8736 | Carvajal, Jorge | 48 | M | Lawrence | KS | CRC |
| 15003 | Douglas, Christi R. | 32 | F | Lawrence | KS | |
| 4584 | Lounsbury, Christopher | 35 | M | Lawrence | KS | |
| 14866 | Niles-Plumlee, Erika | 34 | F | Lawrence | KS | |
| 4871 | Nyberg, Chris | 41 | M | Lawrence | KS | |
| 1495 | Rock, Alex R. | 22 | M | Lawrence | KS | |
| 13699 | Rock, Elise M. | 20 | F | Lawrence | KS | |
| 1195 | Schmidt, Robert L. | 21 | M | Lawrence | KS | |
| 11460 | Zabel, Michael | 47 | M | Lawrence | KS | |
Apr 11 - From today's Dam Run - Congratulations to Phil Hudnall (Lenexa) and Todd Allen (Topeka), setting the fastest all-time records in Kansas for the men's 35-39 category in the 12K. Both bested the old time of 44:08 set by Sam Moris at Ft Scott, KS in 1996. Phil did a 42:57 just ahead of Todd's 43:09.
Lawrence's Brian Daldorph also set the 4th all-time best for M50-54 with his time of 50:32. results
Phil Hudnall & Todd Allen, record setters; 5K winners Stacy Riggins & Brett Rinehart; 12K winner Lisa Giullian (Dick Ross photos) - more photos
Apr 6 - The Run for Erica 5K and 1 Mile Walk has been rescheduled for Sun, Apr 26, according to event organizer, Sue Reiske.
Also, remember the Dam Run 12K and 5K are this Sat, Apr 11. Both events are listed on the coming events page. Do you think you can set a state record? Take and look at the age group times and come out Sat and give it a try.
12K Kansas state records
Brew-to-Brew:

The 6:30 am start

; before getting to Linwood, you run by the Mt Sidney Cemetery and you get a boat ride across the creek.

(gmw)
Apr 5 - The forecasted snows held off. But the blustery winds and rain did not stop the Brew-to-Brew 44-Mile Run from Kansas City to Lawrence. The annual event is a benefit for the Cystric Fibrosis Foundation. The offical finish line was on the Kansas River levee, but the ultimate finish was the Free State Brewery.