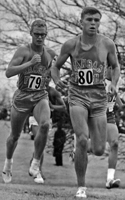 Mar 30 - In memoriam - Major (Lowell) Paul Mattingly, formerly of South Haven, retired US Air Force pilot, died Wed, March 11 in Wellington, KS, at the age of 60 after a long battle with cancer.
Paul was one of the many milers and half milers from south central Kansas in the mid 1960s. He's credited with a 1:54.5 time in the 800m and ran a 4:10 mile right after he graduated from South Haven High. On the KU track team, he ran a 4:11.4 mile in the KU vs UCLA dual meet (Mar 30, 1968) which KU won 102-42. (left) Roger Kathol & Paul Mattingly at a Nov 1966 cross country meet at Echo Hills Golf Course, Wichita.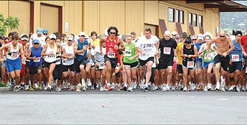 Mar 29 - Congratulations to Karen Hyde for winning her age category at the Run For Hops 10K in Kailua-Kona, Hawaii on Mar 14th. (Brad Ballesteros photo)
Mar 28 - Allen Fieldhouse has been used for running events and once had a 220 yard track and a good place when the weather is bad. Above top of page, left, George Byers, clears a hurdle in a close race at a KU indoor meet in Feb 1967. In Feb 1973, Jim Brewer and Mike Ott lead an afternoon workout of the Mad Dogs and Englishmen. The bleachers were pushed back and the photo taken from the elevated basketball court, The track has since been removed, but Red Dog's Dog Days group work out on the 2nd and 3rd levels each winter; the photo (right) was taken in Feb 2009.
Mar 27 - Dam Run postponed - Due to the severe weather forecasts of snow/rain/sleet /ice for Friday and Saturday morning, the Dam Run has been postponed to two weeks later on Sat, April 11th on the same course. Erica's Run and the Oalthe Marathon have also canceled due to the severe weather.
Mar 25 - Competitive Instinct and Team Spirit Can Get You a Long Way:
In every race I run, I always manage to end up just behind my arch nemesis. It doesn't matter that I've never met this person before. Nor that this person knows absolutely nothing about our intense feud. Nor that it's a different person each time. All I know is I'm not letting Ms. Purple Shorts get to the finish line before me. more (from the Washington Post, Mar 24, 09)
Mar 22 - Recent memberships renewals with runLawrence for 2009: The Beiters (Jim, Sandy, Cameron & Natalie), CeAnne Harbin, Keith Dowell, Coco Tieghi, and Brenda Groskinsky.
Mar 20 - We temporarily lost the minutes of the club meeting, but they are now posted. Lori Cackler did her job, her work was misplaced for a couple of weeks.
Mar 19 - This Sat, March 21, stop by J&S Coffee at 6th and Wakarusa for a Lazer 105.9 live remote at 7:30am. Red Dog's Dog Days group will do their regular run and the Lazer will also be on hand to promote the Kansas Marathon. Come by and join Red Dog's group for about 3-4 miles and register to win a 52" flat screen TV donated by the marathon's title sponsor Lynn Electric. After the run, stick around for a cup of coffee and mingle with a friendly crowd of runners.
Mar 10 - From Sandi Weston at the March 1 Gasparilla Distance Classic Marathon:
"The course was wonderfully flat, and it was a well-organized race, but the weather was not terrific. On Saturday, the day of the 5K and the 15K, the weather was a little warm, but calm and sunny. On Saturday afternoon, predictions for Sunday, 6 a.m., race start, were for rain, hail, and 25-30 mph winds. While it wasn't quite that bad, the winds always seemed to be headwinds, and it rained on part of the course. I got rain for just a few minutes at about mile 11 and then it just poured for the last couple of miles. My shoes were so heavy! But I trudged on! I actually had a couple of good things happen in the last two miles: At mile 23, I could hear wild cheering.
As I got closer to mile 24, I could see a group (I think one of the beneficiaries of the race, "Let Us play") yelling and screaming. The ladies at Wellesley had nothing on them. I smiled for over a block, and felt badly for the folks wearing their ipods not hearing their encouragement.
Then, a couple of women who evidently noticed my garmin and asked what was the mileage. That started a banter that lasted the rest of the race. Turns out the two had just become acquainted in the last half mile and were encouraging each other on, and I became part of that. They were in their early 40s, running their first marathons and wanted to finish at 4:10. When they realized that they weren't going to accomplish that, they focused on my goal, 4:15. They were amazing angels. I wish I knew who they were.
The rain stopped shortly after I finished and we were able to stay around and enjoy Karen [Raymer]'s finish which was awesome. We had signs that my sister-in-law had made, so the DJ caught on to Karen's birthday, played Elvis when she finished and interviewed her afterwards. It was a great day, even if we were a little, no a lot, wet!"
Sandi's 4:14:09 qualified her for the Boston Marathon.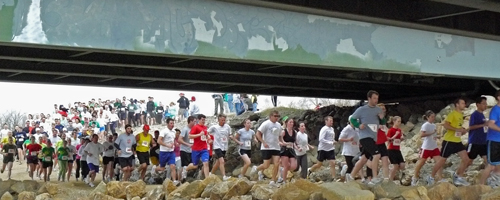 Mar 7 - A record crowd ran the Shamrock Shuffle this morning with temperatures in the upper 60s. Top winners were D J Hilding and Kelly Ballard, both of Lawrence. Masters winners were Brian Daldorph (Lawrence) and Donna Romans (Kansas City MO) . Results