June 2015 news
June 30
It was one of the most dramatic finishes in 42 years of the Western States Endurance Run—and it wasn't for first place. With just 90 seconds left before the 30-hour cutoff time and 300 meters to go in the 100.2 mile race on Sunday, Gunhild Swanson, 70, of Spokane Valley, Washington, dug deep to became the oldest woman to complete the course in a time of 29 hours, 59 minutes, and 54 seconds. more
(article & photo by Erin Strout, 6/29/2015, Runners World)
June 27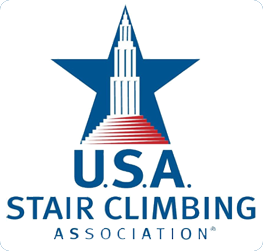 Keith Dowell is presently 6th in the age 60-69 category in the national stair climbing rankings.
Rankings as of 6/22/2015
name
age
points
#1 HAL CARLSON
62
407.74
#2 MARK GREENLEE
60
165.52
#3 SYD ARAK
69
147.06
#4 LEE BLEDSOE
61
125.00
#5 HOWARD KLEIN
60
98.18
#6 KEITH DOWELL
60
70.16
#7 JOSE CAMACHO
60
67.65
June 26
The 25 Golden Rules of Running - This article originally appeared in Runner's World a few years ago. The article remains popular online, and the rules are as good now as they were when first published.
In most cases, these rules started out as a lightbulb over one runner's head. After a while, that runner told a few running buddies (probably during a long run), word spread, and before you know it, coaches were testing it, sports scientists were studying it, and it evolved from idea to theory to accepted wisdom. Along with each of the rules we present, however, we list the exception. Why? Because, as you also learned in grade school, there's an exception to every rule. more
(by Bob Cooper, July 19, 2005)
June 25
The Mass Street Milers, tried an urban orienteering course for this Thursday's workout. Given a map, they were to find various control points in East Lawrence answering questions to verify they found the right spots. One control was at the Turnhalle and the qeuestion was "how many steps to the door on the west side?" Paul Clatterbuck (Lenexa) chose to point and count as he ran by while Stephanie Frankowski (Lawrence) got the count by running up the steps. Here's the course map.
June 24
Club members: share your experiences and photos from a recent event. Results for area races indicate we've all been busy. You can email the web page editor, or post on Facebook.
June 21
(left) Doing the Storm the Dam 10K near El Dorado on June 6th were Daniel Bone and Jason Holbert, both of Lawrence. (right) Bill Kinnersley took first in the M70-74 category at the June 20 Father's Day Run at Sporting KC.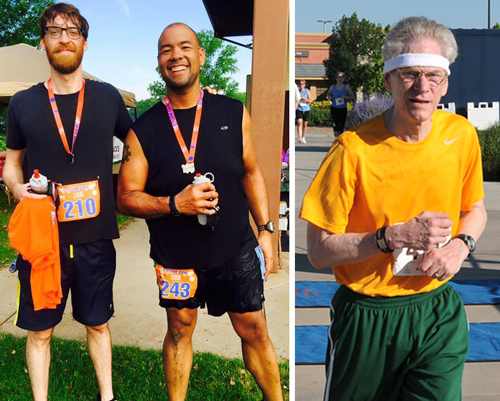 June 20
Greg Burger (Lecompton) finished second overall in the half marathon at the Rock the Night Away Trail Run Friday night (June 19) at the Branded B Ranch (along Perry Lake).
Full results | more Mile 90 Photos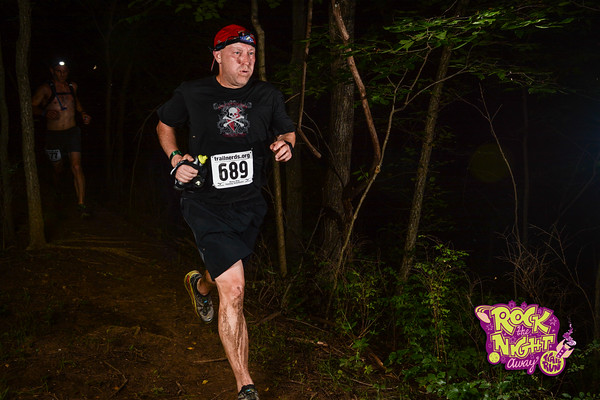 June 17
Ron Clarke, one of the greatest distance runners of the 20th century, has died at age 78 after a short illness on Australia's Gold Coast.
Clarke will be remembered as the greatest record breaker in the history of running. In his peak year of 1965, the front-running Australian set 11 world records at distances from three miles to one hour (12 miles, 1006 yards). Not even Paavo Nurmi or Haile Gebrselassie held such a full set of world marks simultaneously. Later Clarke added the two-mile record to that astonishing range. more (by Roger Robinson, Runner's World)
Scenes from the Future Stars Elite Track Meet at the Free State Track, hosted by the Mini Mocs Track Club.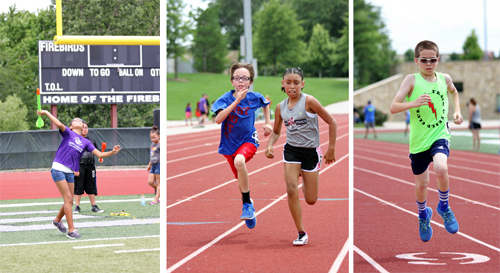 June 15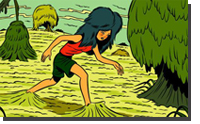 Tips for Running in Humidity - Runners often obsess over weather reports, tracking the coolest time of day in which to run. But as anyone who's ever tried to finish a five-miler in steamy conditions knows, it's not just the temperature that matters, it's the humidity.
"Of all the climate measurements we take to assess heat risk for our runners, humidity is the biggest factor. . ." more (Liz Plosser, 6/10/13, Runner's World)
June 14
After covering the morning Trail Nerds Summer Intro Run, Mile 90 Photography was at Clinton State Park to capture scenes at the Night Hawk 50 hosted by the Lawrence Trail Hawks. More photos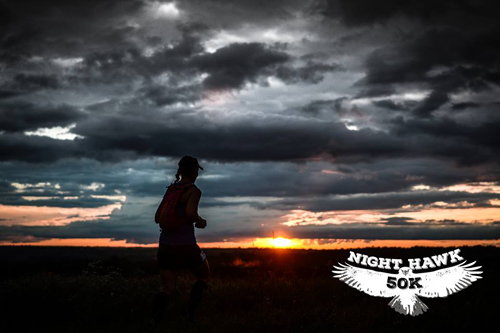 June 13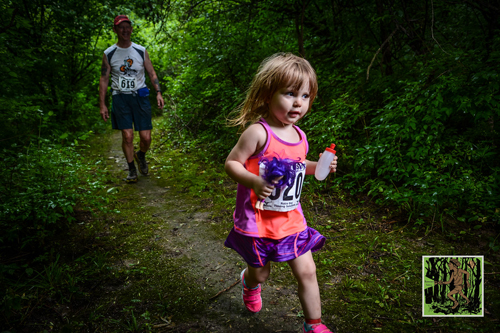 Zen Ohnesorge, 2.8 years old, ran her first 2.8 mile trail run at the TrailNerds Summer Intro, narrowly breaking the one-hour mark with a time of 59:31, 74th overall. 75th was Keith Dowell. Results (photo by Mile 90 Photography)
June 10
June 9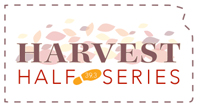 November 2015 welcomes the brand new Harvest Half Series, challenging participants to complete 3 half marathons in Kansas in just a 3 week span!
The 39.3 challenge kicks off with the Kansas Half Marathon on Nov 1 in Lawrence. The following weekend it's the Gobbler Grind Half in Overland Park. Week 3 is the Pilgrim Pacer at Shawnee Mission Park. more info
June 8

Six minutes….that's the average improvement of half-marathoners who switch to Jeff Galloway's method of training and racing.  Not everyone is going to improve by 6 minutes, of course. Many will improve by much more than 6 minutes. more
June 7
Congratulations to Dan Kuhlman (left in the photo) on winning the M60-69 category at the Jemez Mountain 50K on May 23rd. results (Ken Hanson photo)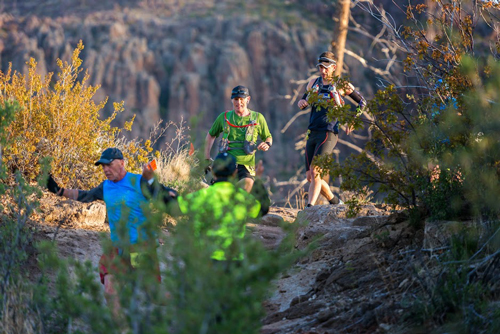 June 6
Here are the top finishers of local runners from the Hospital Hill Races.
Half Marathon

complete results
Josh Baden
Lawrence KS
3rd M-overall
1:16:42
Michelle Andrew
Topeka KS
2nd F-overall
1:30:58
Matt O'Reilly
Lawrence KS
2nd M/30-34
1:26:16
Jack Angell
Tonganoxie KS
2nd M/40-44
1:29:28
Susie Fagan
Lawrence KS
4th F/40-44
1:44:02
Pam Perica
Bonner Springs KS
2nd F/60-64
1:49:10

10K

Christine Cunningham
Lawrence KS
2nd F/25-29
45:50
Heidi Matsakis
Lawrence KS
1st F/35-39
50:36
Starla Jones
Tonganoxie KS
3rd F/45-49
48:01
Dee Boeck
Lawrence KS
1st F/65-69
53:36
Kenneth Johnson
Lawrence KS
2nd M/65-69
50:33
5K (June 5)
Stacy Riggins
Lawrence KS
2nd F/55-59
26:26
Joanie Starks
Lawrence KS
1st F/60-64
29:14
Zander White
Topeka KS
2nd M/9&under
26:46
Matt O'Reilly
Lawrence KS
4th M/30-34
18:42
And in Moab, Utah, LaRisa Chambers (53T) and friends did the Thelma & Louise Half Marathon (June 6).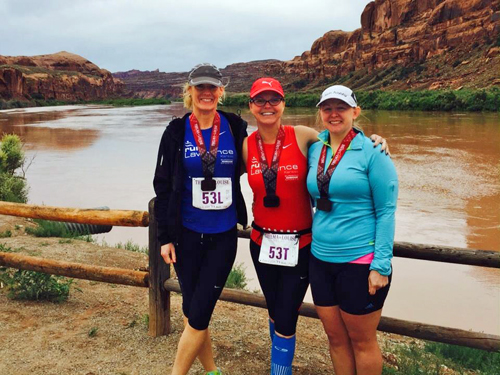 June 3
"You've got to know when to hold 'em.
Know when to fold 'em.
Know when to walk away, and know when to run."
One of the single greatest strategies for running healthy and strong is in knowing when to pull out of a race due to injury—one of the hardest decisions a runner can make. more (by Jenny Hadfield, How to Decide When to Skip a Race, Runner's World)
June 1
News for older runners.
The Age-Grading Calculator has been updated and uses the most recent Age-grading factors (2015) replacing the 2010 version.