March 2017 News
Mar 28

The list of local weekly Group Runs on this web site is being updated. If you have any changes, please send updates to runlawrence@gmail.com. Thank you to all the workout organizers for making Lawrence such a wonderful running community.
Mar 27

From Bev Gardner: "We have gotten permission to be at the Lawrence High track again this year to do Red Dog's Dog Days (workouts). We will still meet on Monday thru Thursday at 6 am and 6 pm starting June 5. This year Red Dog has changed the Saturday run to 7:30 am starting June 3 at the Lied Center. He said we will only have one session this year."
Mar 25
Congratulations to William Parker on his win at the Body First Half Marathon in Wamego yesterday.
Mar 17
Lawrence celebrates St Patrick's Day with the Ad Astra Irish Mile, held right before the annual downtown parade. Results
Mar 8
Is the Exercise Cool-Down Really Necessary? The problem, says Hirofumi Tanaka, an exercise physiologist at the University of Texas, Austin, is that there is pretty much no science behind the cool-down advice. The cool-down, Dr. Tanaka said, "is an understudied topic. . ." Read more
(from the Oct 13, 2009 New York Times, by Gina Kolata)
Mar 6
Congratulations to all the runners at this year's Shamrock Shuffle 5K and 10K. Results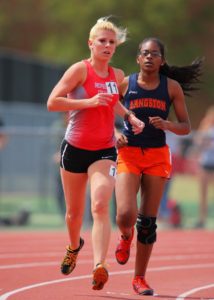 First place female at the Storybook Run in Olathe this weekend was Miranda Clark-Ulrich, a Lawrence resident, KU Law student, and member of the Kansas City Smoke. It wasn't "Green Eggs & Ham" but in honor of Dr. Suess' birthday, Chris Cakes served breakfast.
Results