April 2014 archives
Apr 28
Long time club member Brenda Groskinsky wants to let everyone know about a fund raiser for a friend of her daughter.  Molly Ogden was a track runner in Baldwin City until a year ago when she suffered a stroke at the age of 16.  Insurance will not cover the continuing speech therapy Molly requires.  There will be a silent auction at Alvamar Country Club Sunday, May 4 starting at 4:30 p.m. Here is a video about Molly.  
Apr 27
The threatening rain held off for the Hilltop Hustle 5K. Ins tore this year was a new course over West Campus. The start/finish was at the same place, in front of the Hilltop Child Care Center, meaning runners had two long uphills instead of just one. photos | results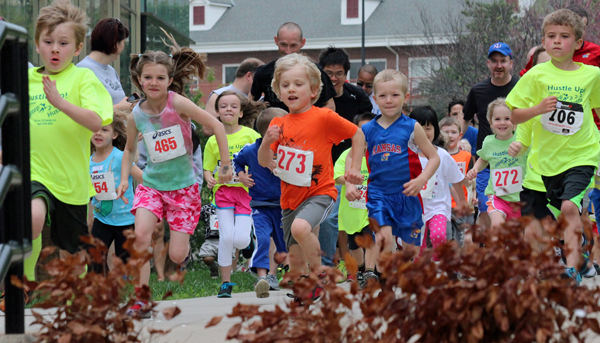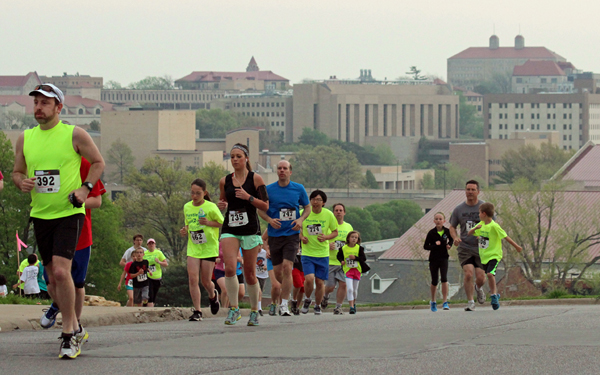 Apr 25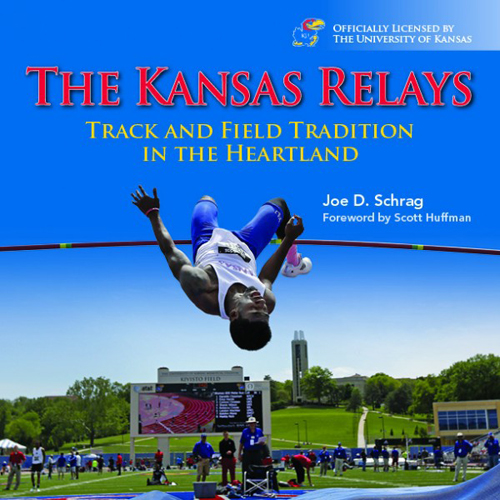 In The Kansas Relays: Track and Field Tradition in the Heartland, Joe D. Schrag, g'68, chronicles this history of the meet, which along with the Drake, Texas and Penn Relays, is one of the most storied collegiate track and field meets in the country. more
Book available at Jayhawk Ink in the Kansas Union.
Apr 24
Beginning of the 9 mile ruck run at 5 am on Apr 19 at the 20th Anniversary KU Ranger Buddy Competition at Clinton Lake. more photos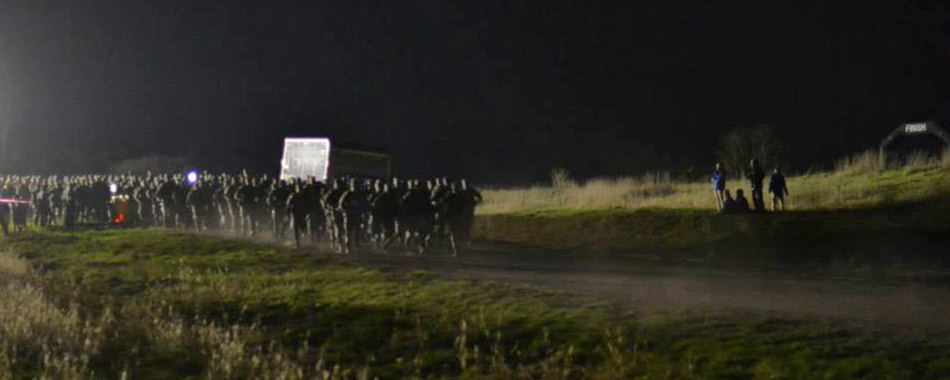 Apr 23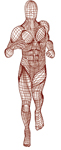 Understanding Your Fascia - Fascia may be the missing piece for your lingering injury.
You've got this injury you just can't shake.You take time off. You ice and stretch and do all the right things but you're still limping home. You spend too much time trying to articulate your particular brand of hurt to those loved ones who still put up with you. You follow referrals to physical therapists and massage therapists and you'd go to an aromatherapist if it'd help you run again, but nothing does. You diagnose yourself on WebMD: You're a structurally flawed human being for whom recovery is impossible.

The answer may be right under your fingertips. About 2mm under your fingertips, to be precise. read more from Running Times (June 2011), by Julia Lucas, illustration by Meg Keiffer
Apr 21
Eleven of the 12 Lawrencians started and finished the Boston Marathon today. Check the results. Best time for a Kansan was posted by Lawrence's Trevor Johannsen coming in at 2:35:25.
Apr 18
Kansas Relays - From the downtown Lawrence evening shot put event. More photos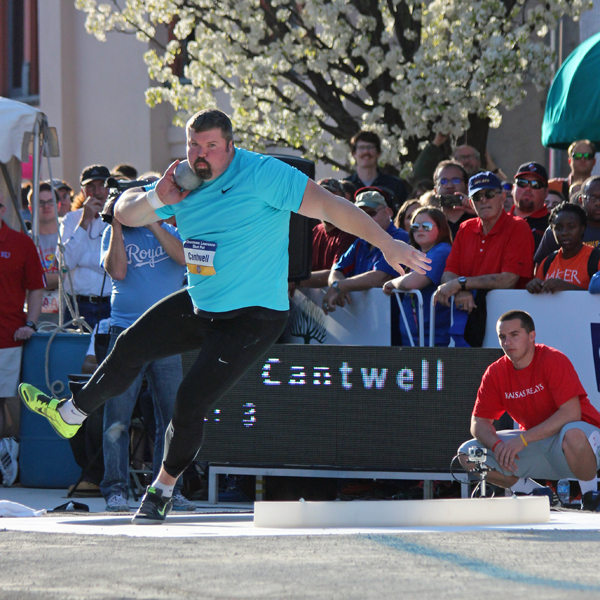 Boston Marathon - A dozen Lawrence residents have entered Monday's Boston Marathon. Several say they are doing it to show support for the Boston community after last year's terrorist attacks. - see LJW story by Giles Bruce
Good luck to our local runners in this year's Boston Marathon.
Bib
Wave/
Corral
Name
Age
M/F
City
St
12760
2/4
Doyle, Kevin
48
M
Lawrence
KS
18228
3/1
Arnhold, Thomas D
59
M
Topeka
KS
18636
3/1
Francis, Tiffany C
51
F
Lawrence
KS
30260
4/4
Gil, Keely T.
27
F
Lawrence
KS
10263
2/2
Glass, Madeline
24
F
Lawrence
KS
20187
3/3
Harris, Sarah
40
F
Baldwin City
KS
22280
3/5
Hope, Jack
66
M
Lawrence
KS
18490
3/1
Hyde, Karen G.
52
F
Lawrence
KS
2358
1/3
Johannsen, Trevor P
26
M
Lawrence
KS
16280
2/8
May, Kristin M.
44
F
Basehor
KS
4164
1/5
McVey, Scott
35
M
Lawrence
KS
6469
1/7
Myers, Leigh G.
50
M
Lawrence
KS
25201
3/8
Nott, Patricia A.
71
F
Lawrence
KS
12316
2/4
Piraino, Frank
51
M
Topeka
KS
10854
2/2
Rhoden, Brad
61
M
Topeka
KS
22808
3/5
Rhoden, Marla K
58
F
Topeka
KS
1977
1/2
Shump, Nicolas C.
21
M
Lawrence
KS
26991
3/9
Vossler, Vicki L.
51
F
Topeka
KS
Apr 17
The Kansas Relays moved to its new home at Rock Chalk Park on Wed. Here's Lawrence's Grace Morgan, KU freshman winning the Thursday evening 5000m.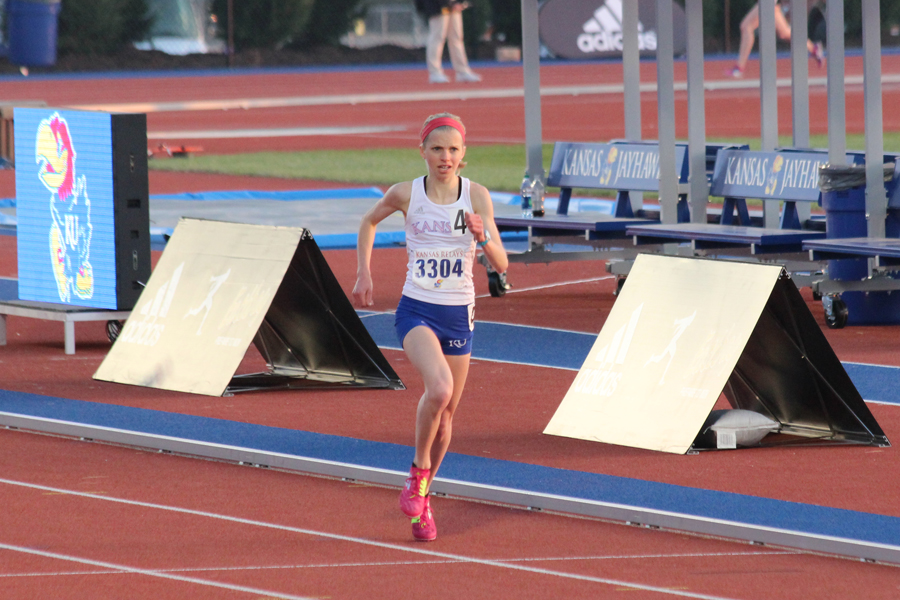 Apr 13
From the Hannah and Jayhawk Friends 5K today. The pack after two blocks on Fambrough Drive. Corbin Hall and the Varsity House Apartments are in the background along with the redbuds and Bradford pear trees. More photos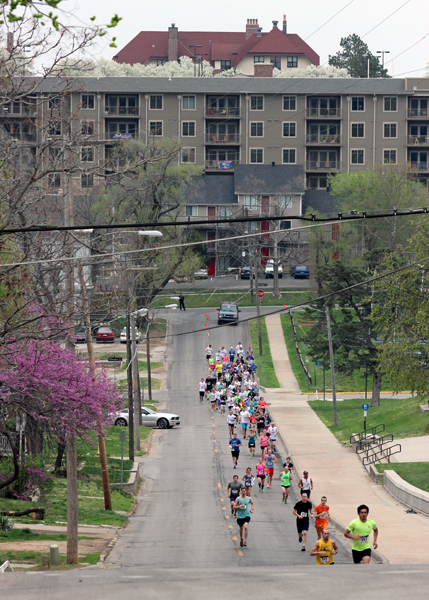 Apr 12

Congratulations to these top finishers at Rock the Parkway. In the half marathon:Benson Chesang (Lawrence, 2nd overall male in 1:08:33.1), Michelle Andrew (Topeka, 1st female master in 1:30:13.7), Brian Daldorph (Lawrence,2nd M55), Susie Fagan (Lawrence,3rd F40), Karen Hyde (Lawrence,1st F50), Pam Perica (Bonner Springs, 2nd F55), and Dan Kuhlman (Lecompton,1st M60). complete results
In the 5K: Nick Elniff (Lawrence,2nd M25), Doug Hartwell (Lawrence,3rd M25), Brittany Hartwell (Lawrence,1st F25), Stacy Riggins (Lawrence,1st F55), and Joanie Starks (1st F60). complete results
Apr 10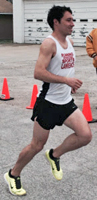 One of the faster runners toeing the line at this weekend's Eisenhower Marathon will be Lawrence's own Carl Specking.  Based on past results, Carl has a legitimate shot at finishing in the top three.  One thing that will set Carl apart from the competition:  he'll be using walk breaks from mile 1.
Carl has followed Jeff Galloway's marathon training program since last November.  Marked by longer long runs, run slowly and with frequent walk breaks, the Galloway method removes the wall from the marathon day experience, enabling runners to race (rather than merely survive) the final miles of a marathon.  This low-mileage*, highly flexible approach to marathon training reduces the risk of injury to virtually zero while leaving you with fresh legs and full of energy.
Carl's previous marathon best, running continuously, is 3:09.  Using walk breaks, Carl hopes to break 2:50 in Abilene.
*Since November Carl has averaged less than 25 miles per week.
Apr 6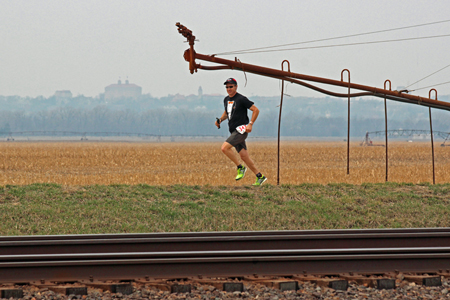 400 teams signed up for the 20th running of Brew to Brew. Here's a view of the KU Campus from the last check point between legs 9 and 10. More photos
Also check SeeKCRun for all team photos and more scenes.
Apr 6
The Lawrence Parks and Recreation partnered again with the Bobcat Marathon Club to host the double event, the 5K Dam Run and the 5K Fun Run of the Langston Hughes School's running program. More photos by Carrie Mandigo. Results coming later.
Apr 5
At the volunteers meeting for the Brew to Brew Run (tomorrow's 43.5 mile run from KC to Lawrence) a history of the event was handed out. It's been 20 years.
In 1995, most people ran on four-person teams. Lawrence's Steve Riley was the fastest solo runner covering the 45 miles in 5:07:00 (5:22:00, if adjusted for distance this would be the scratch record). There was an an adjusted team competition and the winning team was "Our Motto is Our Slogan" - the group from Lawrence: Mike Ott, Dee Boeck, Gene Wee and Jim Dicker. Various trophies are awarded (best team, team name, spirit award, etc.) including one for departed friends, the Mike Ott Adjusted Team Award.
Good luck to all the runners in Sunday. You will have a good time. Be sure to thank Lou Joline the race director for the great event he's promoted all these years.
Apr 3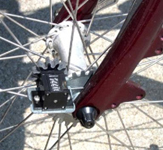 In GPS We Trust - Which is more accurate: A certified course that is wheel measured, or your GPS? Or in truth, how far do I really have to run before I can see the beer tent?
USATF Certified Courses – How accurate are they? The short answer is very accurate to within 1/10 of one percent. Read and reach your own conclusion.
Apr 2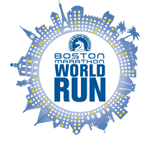 This year, the Boston Athletic Association, in partnership with John Hancock and Manulife Financial, are inviting people from around the world to participate in their own Boston Marathon. Maybe it's not 26.2 miles, and maybe it's not in Boston, but there is a marathoner in all of us. We encourage you to bring it out – and to be a part of the first ever Boston Marathon World Run.
Registration and participation in the Boston Marathon World Run is free. All registrants will receive a printable bib number, a digital finishers' medal, and a printable finishers' certificate. Simply pledge to run, walk, or wheel any distance, and complete that distance at one time or over several weeks leading up to or on April 21. more info