September 2014 archives
Sep 30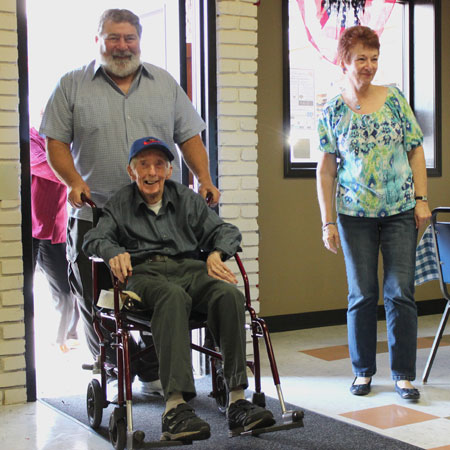 A surprise party for Jerry Morrison (shown as he was wheeled in to the American Legion building) was held Sunday Sept 28 in Parkville, MO, to honor Jerry for his community service and his many contributions to running during his fifty years living in Kansas City. Jerry is 91 and will be moving to Scottsdale, AZ in October to live with his daughter. Lots of photos were passed around including one showing a 10K time in the low 36 minutes; he was in his early 60s. more photos
Sep 29
In today's Journal-World: Just a few months ago, Heather Brandenburg was told she'd likely never be able to run again. But the 21-year-old KU student didn't let that stop her. She pushed through the pain and is now training to participate in the Kansas Half Marathon, which takes place in Lawrence this November. more
Sep 28
Reminder this Tues, Sept 30th is the info meeting for the 8-week training program to get ready for the Thanksgiving Day 5K. 6:30 pm at the Lawrence Public Library. Today's USA Weekend magazine offered tips on getting ready for a turkey trot 5K. The club's certified coaches can provide the guidance to reach your goals.
Sep 27
Medal winners at the Senior Olympics 10K in Topeka. photos | results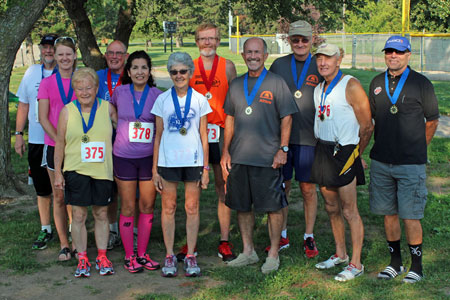 Sep 20
The Dr Bob Run held at Rim Rock Farm on the 20th is in memory of Dr. Bob Frederick with proceeds going to the scholarship for graduate and undergraduate students majoring in sports management.
Three races for children and adults. The selection of photos zoomed in on three groups - Red Dog's workout group, the KU Running Club and the middle schoolers in the runLawrence cross country program.
Two slideshows: one more general, and the other on the youth runners.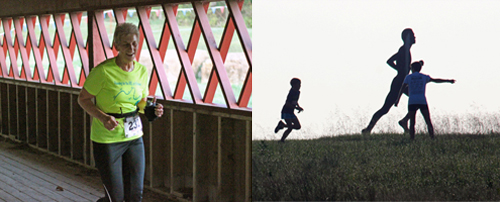 Sep 19
TrailRunner Magazine selected 20 beginner-friendly trail ultras in the USA and among the 20 is Lawrence, KS. Here's the report:
Midwest: Free State Trail Run 100K, 40 Mile, 26.2 Mile and 13.1 Mile
Lawrence, Kansas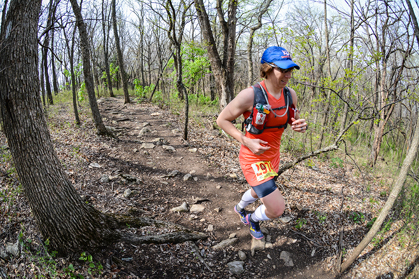 Photo by Rick Mayo / Mile 90 Photography
This race, put on by the Kansas-City-based club Trail Nerds, features a 20-plus mile loop course in Clinton Lake State Park in nearby Lawrence. Don't be fooled by your flat, yawn-inducing vision of a standard Kansas landscape; the race website warns that the mostly singletrack trails are rockier and hillier than you might expect. Come for the great race organization and stay for the after-party, which features vegan food options.
Sep 17
WATCH: Runner Races London Tube - A London runner tried to see if he could exit the London Tube at the Mansion House stop and reboard the train at the next stop, Cannon Street. He had one minute and 20 seconds to cover the quarter mile, including navigating stairs, turnstiles and around pedestrians.
Sep 16
On the ultra side last weekend, the Hawk 100 was held at Clinton State Park hosted by the Lawrence Trail Hawks. Here's Gary Henry looking pretty alert after 100 miles. (image by Mile 90 Photography)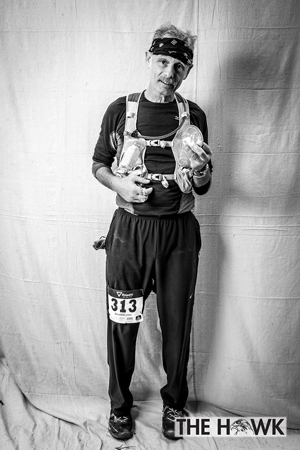 Sep 14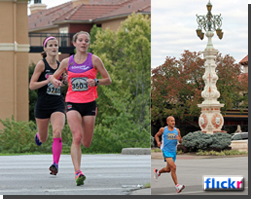 Scenes from Sunday's Plaza 10K.
(left) Kimi Reed (3503, Springfield, MO) and Connie Teague (3788, Lee's Summit, MO) rounded the last corner with 300 meters to go, exchanged leads then Reed crossed the line in 35:16.2 to Teague's 35:17.8 for the win.
(right) Carlos Vasquez (Independence, MO) won the men's masters competition.
more photos | results
Becky McClure, Liz Dobbins and Dee Boeck display their awards from the Kansas City Plaza 10K.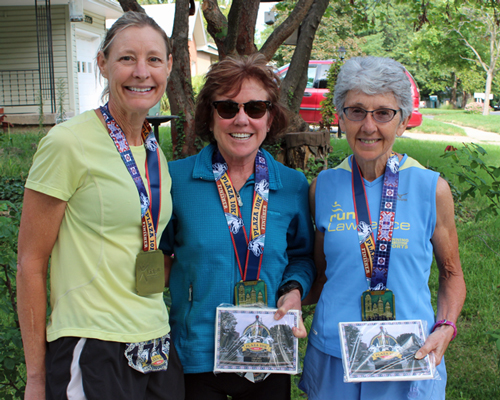 Sep 13
Photos from the Perry Pride 5K on a foggy morning. (below) Kathy Shobe (Oskaloosa) zips by the Perry Bar & Grill and on finish as the top female. Results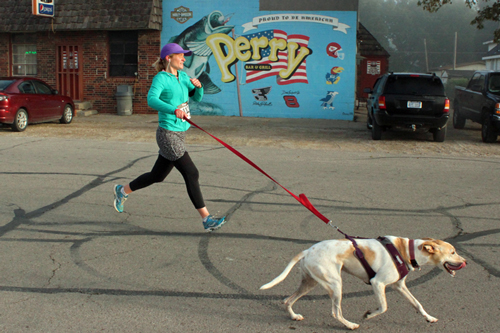 Sep 9

Run a mile race, instead of a marathon. - short, intense exercise may beat endurance sports.
The mile is making a comeback. Since 1999, the number of mile-length road races in the U.S. has more than doubled to 700, according to Bring Back the Mile, an organization devoted to promoting the distance that once made famous Roger Bannister, the first man to run a sub-four-minute mile, and Jim Ryun, the first high-school athlete to do so. This Saturday's Fifth Avenue Mile, a New York Road Runners event, will host a field of 5,000, up from 52 at its 1981 debut. more (from the Wall Street Journal, Sep 9, 2014, Kevin Helliker)
Sep 6
The start of the North Shore Trail Run at Clinton State Park hosted by the KC Trail Nerds. Mile 90 Photography Results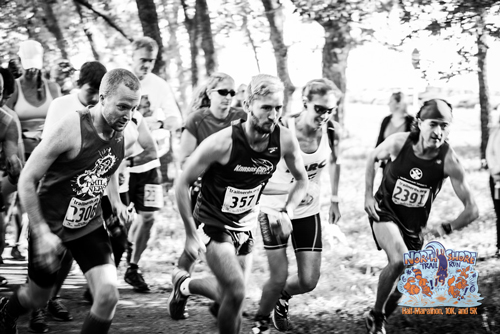 Sep 1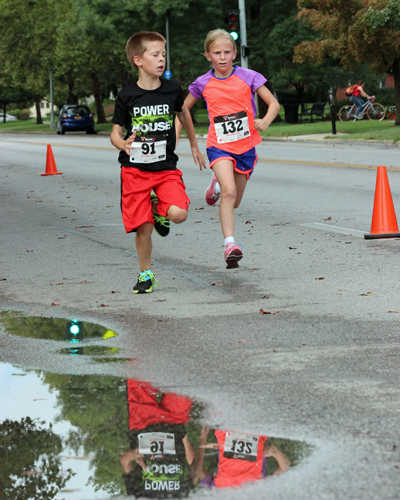 At the Run to Free 5K in Lawrence, Claire Mullen sprints with Alex Lorenzo to the finish. Heavy rains overnight kept the temperature below 70 for the run. (gmw photo)
Slideshow | Complete results