News - August 2017
Aug 26
The Annual Rexy Run benefitting Baby Jay's Legacy of Hope helps families who have a child fighting cancer. The photo below shows Emma Hauser and Samuel Stepp coming out from under the 31st Street bridge just before the finish.
More photos | Mile 90 Photos | Results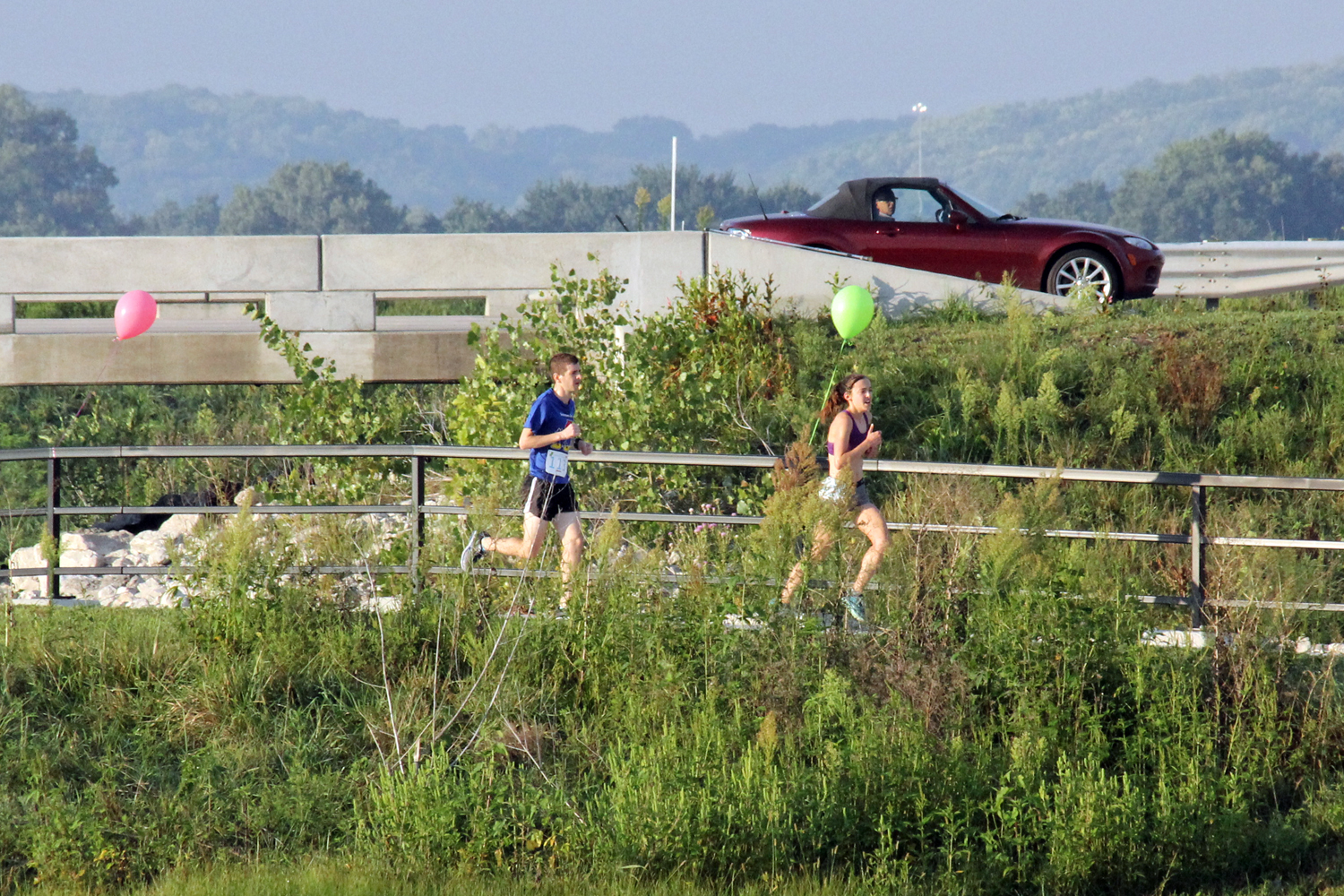 Aug 20
5:05 am! The 4th running of the Defend Lawrence gathering hosted by the Ad Astra Running store. 5:05 a.m. was when Quantrill launched his attack in 1863. According to the run organizer, raiders found Lawrence asleep that morning, but never again! Photos
Aug 12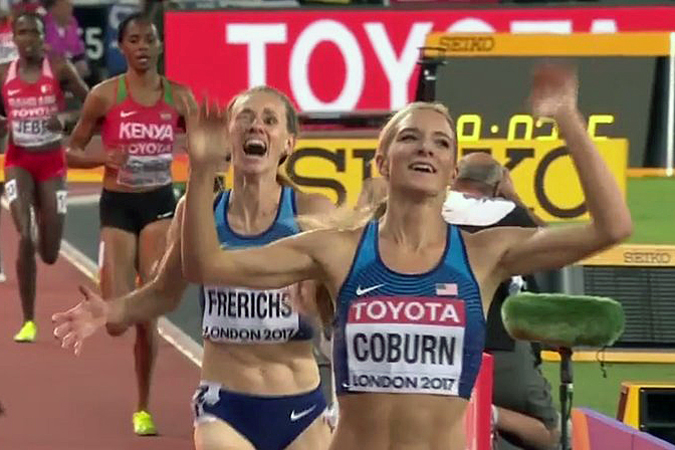 Another runner with local connections medaled at the IAAF Championships. Courtney Frerichs, who started her track career at UMKC took the silver in the women's steeplechase yesterday behind Emma Coburn, giving the U.S. a 1-2 finish. Video of race
Aug 6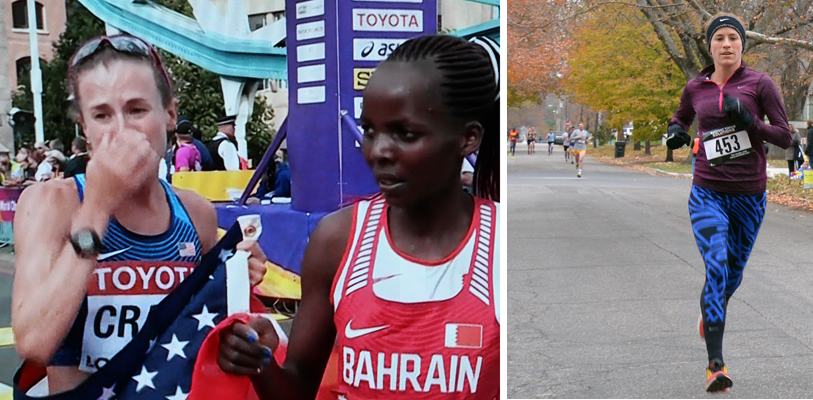 Amy Cragg took the bronze medal in the women's marathon race today at the IAAF World Championships. The fast-finishing Cragg almost caught Kenya's Edna Kiplagat just a stride short, with both women being credited with a time of 2:27.18. Cragg wiped away tears of emotion after the line.
Local Thanksgiving Day runners may remember Cragg winning the 2016 5K in north Lawrence. Amy Cragg (Hastings) was a high school track standout from Leavenworth.
See the schedule below for more broadcasts of the World Track Championships.
Aug 5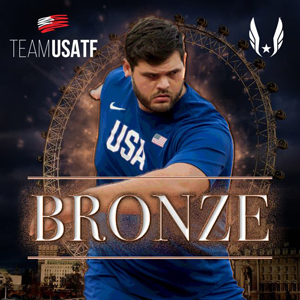 Mason Finley (a KCMO guy and former KU athlete) won the bronze medal in the men's discus throw. First USATF medalist since 1999 & just the third American to win a World medal in men's discus!
Aug 4
NBC, NBCSN, the newly launched Olympic Channel and NBC Sports Gold are teaming up to air more than 100 hours of the best track & field coverage in the world during the 2017 IAAF World Championships in London, England.
Live broadcast action from Olympic Stadium in London kicks off Friday, August 4 on the Olympic Channel with individual field event streaming coverage on NBC Sports Gold, and highlights of the day on NBCSN. Note times shown are Eastern Daylight Saving Times.
You can follow along with #TeamUSATF at #London2017 on Twitter, Instagram, Snapchat and Facebook.
| | | | | |
| --- | --- | --- | --- | --- |
| Date | Channel | Event | Start (ET) | End (ET) |
| Friday, 8/4 | NBCSN | Day 1   | 7:00 PM | 9:00 PM |
| Saturday, 8/5 | NBCSN | Day 2 | 5:00 AM | 8:00 AM |
| Saturday, 8/5 | NBC | Day 2 | 3:00 PM | 5:00 PM |
| Sunday, 8/6 | NBCSN | Day 3 | 5:00 AM | 12:00 PM |
| Sunday, 8/6 | NBC | Day 3   | 2:30 PM | 5:00 PM |
| Monday, 8/7 | NBCSN | Day 4 | 2:00 PM | 5:00 PM |
| Tuesday, 8/8 | NBCSN | Day 5 | 2:00 PM | 5:00 PM |
| Wednesday, 8/9 | NBCSN | Day 6 | 2:00 PM | 5:00 PM |
| Thursday, 8/10 | NBCSN | Day 7 | 2:00 PM | 5:00 PM |
| Friday, 8/11 | NBCSN | Day 8 | 5:00 AM | 7:30 AM |
| Saturday, 8/12 | NBCSN | Day 9 | 5:00 AM | 7:00 AM |
| Saturday, 8/12 | NBC | Day 9 | 3:00 PM | 5:00 PM |
| Sunday, 8/13 | NBC | Day 10   | 2:30 PM | 4:30 PM |